Disposal
PARTSLIFE disposal optimization
Reduce your Disposal Costs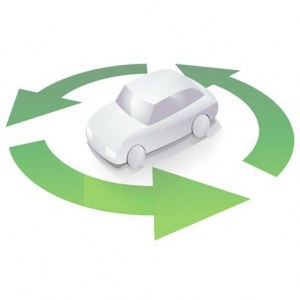 The Concept
In a modern plant, waste disposal should be continuously integrated into the process flows. This helps to avoid waste and reduce disposal costs.
The installation of a waste management system provides business transparency and the necessary overview for official verification.
PARTSLIFE Waste Management
We advise you on all relevant issues and improve processes relating to waste disposal. We help you avoid production waste at the point of origin and establish sorting standards that guarantee efficient and environmentally sound disposal.
Thanks to our customer-specific and free-of-charge site inspection, we can optimally tailor our individual consulting services to the needs of your company.
PARTSLIFE waste disposal optimization is risk-free for you, because payment for this service is based on expenditure or success, if you so wish.
The Result
Low own expenditure
No financial risk
Legal certainty
Transparency in the disposal process
Savings in disposal costs
Our commitment to your optimization
1. Inventory
We visit your sites and analyze your contracts, invoices, delivery and weighing bills.
2. Aanalysis of the material flow
By analyzing the material flow (sorting depth, waste separation, disposal routes), we open up potentials that have not yet been exploited.
3. Verification
We help you to optimize your disposal processes by changing internal and external procedures.
4. Presentation
In a detailed final discussion, we present the results to you, individually tailored to your company.
5. Implementation
We accompany and support you during the implementation of the process we have developed.
6. Waste management controlling
You get constant overviews of your waste quantities, can create your waste balances and keep an eye on your costs.
Certification
As a certified waste management company, PARTSLIFE also supports its customers in their own certification process. The company does this in cooperation with a service provider experienced in the industry.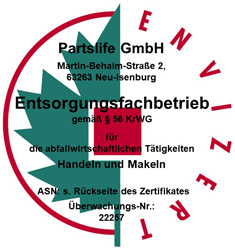 Contact
E-mail:
werkstattentsorgung@partslife.de
Phone:
+49 6102 / 81 292 -22 or -23
Monday to Thursday: 8.00 am - 4.00 pm
Friday: 8.00 am - 2.00 pm
PARTSLIFE - At your service!
Do you have any questions, requests or suggestions? We will be happy to help you.
Simply fill out the contact form and describe your request.
We will get back in touch with you as soon as possible.
Thank you very much. Your message has been sent.
Thank you for your request. We will get back to you as soon as possible