Disposal
PARTSLIFE – Workshop Disposal
Order and manage your waste disposal online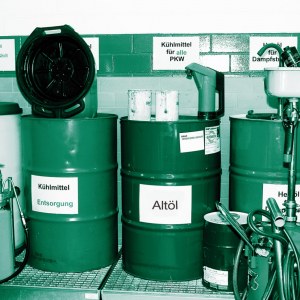 This is how it works:
Register for free at pool.partslife.com as a PARTSLIFE customer for POOL 2.0 and create orders directly online!
The PARTSLIFE Order Online System (POOL)
The disposal of waste is bound to strict legal requirements. In most cases, different disposal companies have to be commissioned for the multitude of different wastes in the workshop. With the help of Partslife Order Online System (POOL) this doesn't have to be the case. We take care of all workshop waste.
With the PARTSLIFE Order Online (POOL) platform, you can order waste disposal easily and quickly. In cooperation with certified waste management companies, PARTSLIFE already coordinates the collection and disposal of all types of workshop waste from over 10,000 workshops nationwide - responsibly and in compliance with the law. In addition to simple online processing, you also receive an overview of costs and reimbursements, as well as an individual waste balance sheet. You also save time and effort by using the order history to reorder recurring orders simply with a click of the mouse or to create your own order templates.
Advantages of PARTSLIFE
Always up-to-date on prices and promotions
Legally compliant disposal of your waste
Creation of your waste quantity balance
Order overview at a glance
Create personal order templates
Disposable materials (excerpt)
Used oil
Brake fluid
Antifreeze and coolant
Oil filter
Oil contaminated operating fluids
Gasoline and diesel fuels
Used tires
Lead batteries
Bumpers
Automotive glass
Solvents/thinners
Spray cans
Separator service
(Download order form)
If there is no suitable container on site, we also offer the option of renting or purchasing the appropriate waste containers for disposal.
The waste disposal companies we use are all certified and provide safety during transport and recycling!
There is a large number of waste disposal companies around, some of which do not have the necessary transport authorization to transport the waste. Therefore, if something happens, you may be held responsible along with them. After all, your duty of care for waste disposal does not end with the pickup of the waste.
At PARTSLIFE, we work exclusively with specialist waste disposal companies (Efb), all of which have the necessary authorizations to transport and recycle the typical waste that you generate in your day-to-day business. We will be happy to advise you on the subject.
Certification
As a certified waste management company, PARTSLIFE also supports its customers in their own certification process. The company does this in cooperation with a service provider experienced in the industry.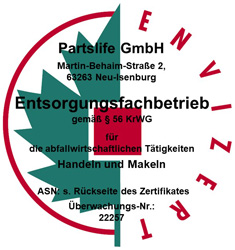 Contact
E-mail:
werkstattentsorgung@partslife.de
Phone:
+49 6102 / 81 292 -22 or -23
Monday to Thursday: 8.00 am - 4.00 pm
Friday: 8.00 am - 2.00 pm
PARTSLIFE - At your service!
Do you have any questions, requests or suggestions? We will be happy to help you.
Simply fill out the contact form and describe your request.
We will get back in touch with you as soon as possible.
Thank you very much. Your message has been sent.
Thank you for your request. We will get back to you as soon as possible