Disposal
PARTSLIFE special waste disposal
Special waste disposal made to measure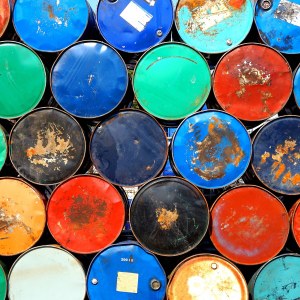 Anyone who uses the available resources sparingly today not only fulfills legal requirements; they can also raise their public image.
Future-oriented manufacturers are therefore looking on their own initiative for disposal concepts that go beyond mere compliance with the End-of-Life Vehicles Ordinance. This ensures that, in addition to legal conformity, there is greater efficiency and transparency in day-to-day operations.
We offer customized recycling and disposal concepts, which we develop individually in close consultation with our clients.
Your advantages
Image gain
Greater customer loyalty
Lower costs
Savings in raw materials through reuse
Legal certainty
PARTSLIFE service offer
Individual needs assessment on site
Development of recommendations for action and solutions
Supervision of the entire process
Monitoring and continuous optimization of processes
Certification
As a certified waste management company, PARTSLIFE also supports its customers in their own certification process. The company does this in collaboration with a service provider with experience in the industry.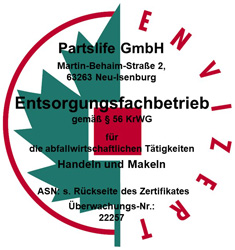 Contact
E-mail:
werkstattentsorgung@partslife.de
Phone:
+49 6102 / 81 292 -22 or -23
Monday to Thursday: 8.00 am - 4.00 pm
Friday: 8.00 am - 2.00 pm
PARTSLIFE - At your service!
Do you have any questions, requests or suggestions? We will be happy to help you.
Simply fill out the contact form and describe your request.
We will get back in touch with you as soon as possible.
Thank you very much. Your message has been sent.
Thank you for your request. We will get back to you as soon as possible