Industrial Safety
Testing of electrical work equipment (DGUV V3)
Reducing the risk of fire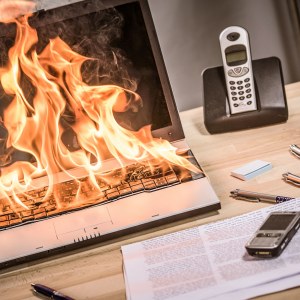 Why do I have to test my electrical equipment?
DGUV V3 (§5 testing) stipulates that electrical equipment must be tested by the contractor at specified intervals. The purpose of this regulation is to reduce the risk of fire, because defective devices are detected and sorted out during the inspection. Testing can, in some circumstances, save a company's existence, as only about 23% of all companies are fully operational again after a fire incident. More than 30% of all fire accidents are due to electrotechnical defects.
Please also consider your insurance coverage, because many insurance companies include testing as a mandatory part of their policies.
When must electrical work equipment be tested?
Electrical work equipment must be tested after installation and before first use. This is required, among other things, by Section 14, Paragraph 1 of the Ordinance on Industrial Safety and Health.
Why is PARTSLIFE my competent partner?
PARTSLIFE tests as required: before the equipment is put into operation and at regular intervals; quickly and effectively - including transparent documentation.
Testing of portable electrical equipment
Portable electrical equipment includes all devices that have a plug and are easily movable (portable).
Examples of this:
Drilling machines
Angle grinders
Power supplies
Computers
Screens
Cable extensions etc.
Testing of stationary electrical equipment
Stationary electrical equipment is any equipment that has a plug and cannot be easily moved.
Washing machines
Dishwashers
Floor standing drilling machines
Wheel balancing machines
Wheel assembly machines
Lathes
Refrigerators etc.
Contact
E-mail:
arbeitssicherheit@partslife.de
Phone:
+49 6102 81292-60
Mon, Tue, Thu from 8:00 am to 4.00 pm
Wed, Fri from 8.00 am to 2.00 pm
Online order
We hereby order on our own behalf the testing of electrical work equipment according to DGUV V3. The number of devices to be tested may vary due to the actual devices available on site. The minimum order value is € 200,-.
Thank you very much. Your message has been sent.
Thank you for your request. We will get back to you as soon as possible
PARTSLIFE - At your service!
Do you have any questions, requests or suggestions? We will be happy to help you.
Simply fill out the contact form and describe your request.
We will get back in touch with you as soon as possible.
Thank you very much. Your message has been sent.
Thank you for your request. We will get back to you as soon as possible